Low Poly Stylized City VOL 1
DrCG Stylized Low Poly City is a modular flexible package of stylized 3D models. This package is Game/AR/VR Ready and Mobile Optimized.
01 What can it actually do? What exactly is it for?
You can easily use the assets in this project and build your game as soon as possible. These assets are modular and highly optimized for mobile games.
moreover, you can use it to make animated cartoons for kids (of course, you have to add human characters to the project if needed). You can also use the assets in Casual, Endless Runner, or Street Driving games and even Puzzle games. The choice is yours. Everything is completely ready to use.
02 Who is this product suitable for?
It doesn't matter if you are an indie developer or a team consisting of several professional or hobbyist people. Using this product, you can easily make your own game or even cartoon movie in the fastest possible time and not get involved in modeling issues.
It Uses Only 1 Texture (7 KB) and 2 Material id

The total Size of the Project is: 31.7 MB (33,297,601 bytes)

Modular Town Tileset (Street & Bridge & River & City Wall Tiles) for Seamless exterior design

Great Looking Demo Scene

 Editor Utility Widget (Blutility) to switch between day and night
 Align and Transform Helper (Blutility)

 Has Material Parameter Collection (for Day & Night Material Control – Only Need to set 0 or 1)

Has no Light Map

All Objects are Movable
See and enjoy our
stylized city

in the day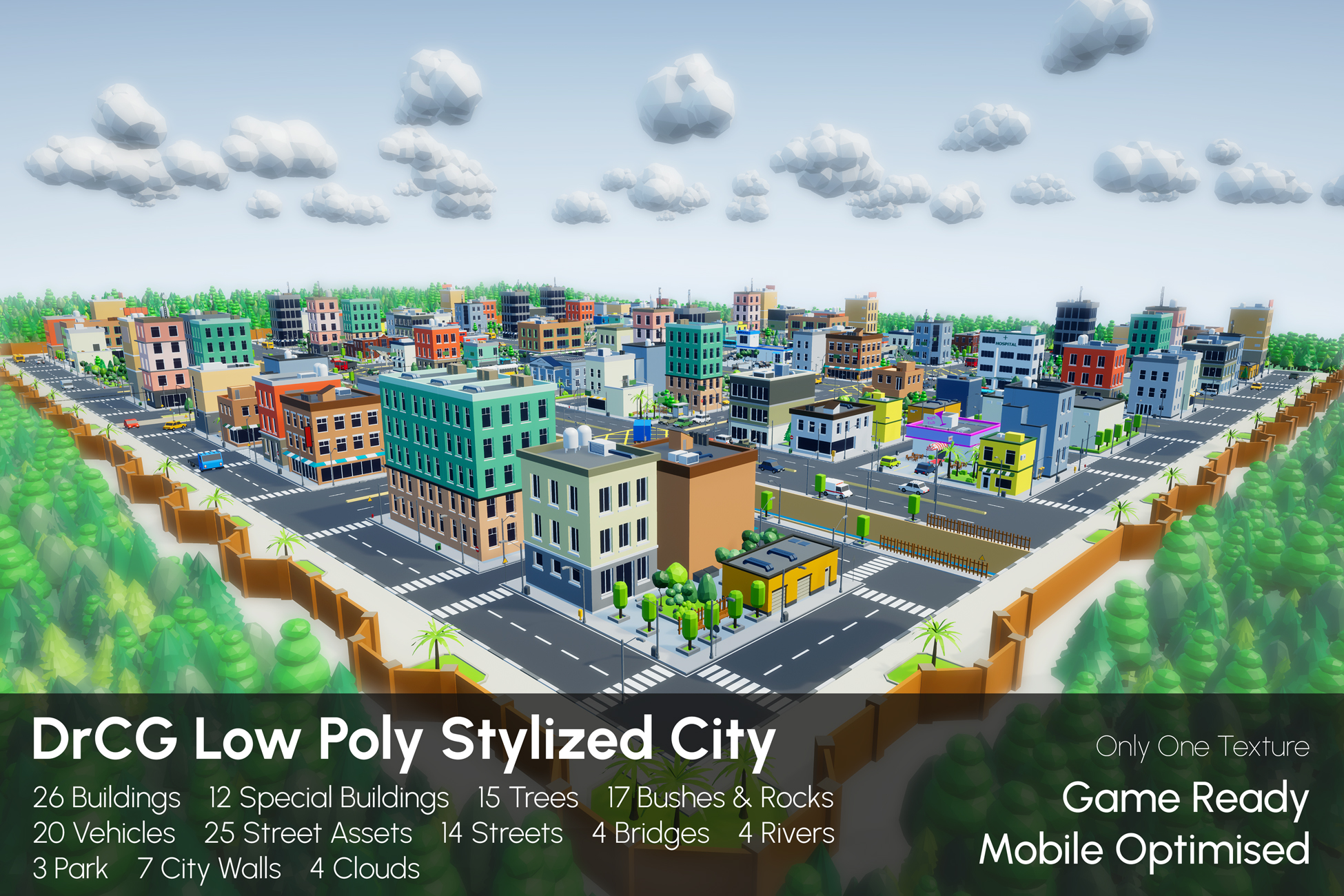 Night in our fantasy city
183 Different Object With 134,113 Poly Count
27 Buildings and 12 Special Buildings
(Residential building, Flat, Apartment, Villa, Town House, Boarding house, Duplex, Mansion, Office, Commercial, Store, Shop, Mall, Garage, Automobile repair shop, Workshop, Pizza shop, Municipal Services, City Hall, School, Police Department, Fire station, Casino, Nightclub, Cinema, Motel, Gas-fired power plant, Cogeneration, Factory, Hospital, Football Stadium)
Limousine (Limo), tram (train), SUV, Crossovers, Sedan, Coupe, Pickup, Taxi (Cab), Police Car, Hatchback, Food truck, Motortruck, Ambulance, School bus, Wagon, Van, Bus, Fire truck
32 Trees & Bushes & Rocks to create a forest or fill a flower bed
Maple Tree, Palm Tree, Pine Tree Large Christmas Tree, Oak Tree, Linden Tree, Elm Tree. You can easily adjust their textures to fit a spring or fall scene
Bus station, Fire hydrant, Trash bin, Mailbox, Payphone (public phone), Seat, Chair, Table, Advertise Blackboard, Traffic barrier & Cone & Cylinder, Wooden fence, Pedestrian bridge (footbridge), Traffic light, Traffic signs
4 Different Clouds
5 Forest Platform
26 Modular Town Tileset (Street & Cross & Bridge & River & City Wall Tiles, Park & Building Platform, Tram Railway) for Seamless exterior design
Sports Area (Football and basketball field)
Root Assets
Air Condition, Dome Roof, Antenna, Water Tanker, Helipad, Canal, Chimney, Box
Project Tour in Unreal Engine