White Marble Slab Collection 8K PBR Textures and Material aaStudio 009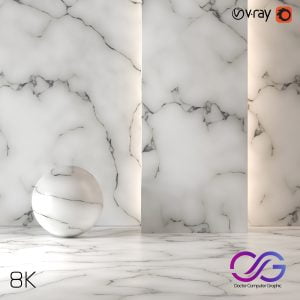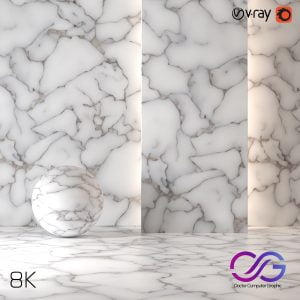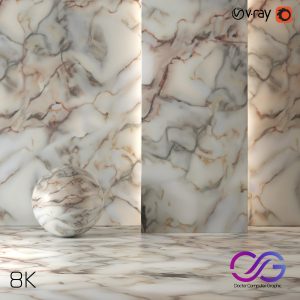 WHAT DOES MARBLE LOOK LIKE?
Marble has a smooth, soft appearance with scattered veining patterns ranging from subtle and delicate to bold and dramatic. While white is the predominant color in many varieties of marble, it comes in a variety of other hues as well. Common marble colors include:
White: Of course, white is the traditional color that comes to mind when one thinks "marble." Many of the most classic varieties of Italian marble, like Carrara and Calacatta marble, are white in color with soft, light grey veining throughout. Even pure white marble is available with varieties like Salt White Extra. For homeowners who love the luxury of white marble, it's a stunning choice that will likely never go out of style.
Grey & Black: Marble can also be mostly grey in color, with varieties like Bardiglio that feature varying shades mixed in a swirling vein pattern for a unique and dramatic look. Then there's the one-of-a-kind Negro Marquina, a distinctive, unusual black marble with white veins and spots scattered across its rich background. Grey or black marble is the perfect choice if you're looking to make a big, bold visual impact with your kitchen countertops, fireplace surround or other surface.
Cream & Gold: For a warm and natural ambiance, many varieties of marble have hues and undertones such as cream, sand and gold. From the soft, subtle ivory and beige of Ege Royale to the luxe quality of golden veins in Calacatta Gold, these tones bring warmth and richness to any space.
With marble, the options are more varied than you might have thought. In addition to these common colors, you may also see marble with hues including blue-grey and brown.
Now that you've seen the extent of what marble can look like, it's time to find the perfect marble slab or tile for your home. Visit us at your nearest Arizona Tile location to get up close and personal with your favorite varieties of this gorgeous natural stone.