Bathroom vanity luxury DrCG 3D Model
I once read that the average American spends almost three full years of his or her life in the bathroom. If that's true, perhaps we should consider making this space a little more worthy of our time.
Bathrooms can often be sterile and cold, with slick and shiny surfaces. But just as with any other room in your home, adding texture to your bathroom can make it vibrant and welcoming.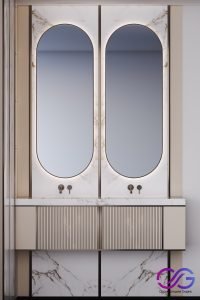 With gorgeous natural stones, plumbing fittings with intricate details and textural linens, wall treatments and more, there are endless ways to give your bathroom depth and personality.
But beware: If you get inspired by the stylish little spaces below, you may find yourself spending a few more years in the bathroom.