Cattelan Italia Magellano Circles Pendant Light 3D Model
The Magellano designer chandelier is a contemporary accessory to complete the living room with a high-impact style. Its smooth and irregular shape makes it a distinctive element that stands out in a geometric modern living room. This designer ceiling lamp consists of a low-edged steel ring with an LED light inside that illuminates the room evenly.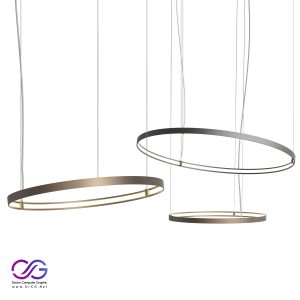 The irregularly shaped ring is the result of a handcrafted process, in which every imperfection is a virtue. This modern chandelier enhances an elegant dining table or a contemporary living room. Furthermore, when positioned in pairs, they create unique compositions of different heights. Magellano can also be equipped with remote control and dimmer.