Concrete Collection Texture (Seamless-Tileable) DrCG No 82
plaster primary function is to protect the masonry from damage by filling gaps and cracks between one brick and another, thus giving the wall greater stability.
Another important function that plastering can perform is to waterproof the walls, making them as immune as possible to the action of external factors, such as mould and humidity.
Finally, the aesthetic function of plastering should not be underestimated: through the use of particular substances or dyes, it gives the walls a certain type of color even before the colored paint is applied.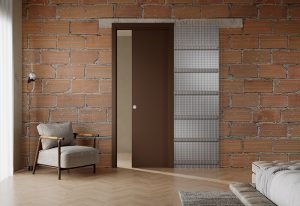 The same goes for the choice of masonry texture: depending on your preference, you can decide to get a perfectly smooth and polished wall or a rougher and grainier one.
Plaster is also perfect for the installation of Ermetika's internal doors, both for the Absolute Line, which includes frameless systems, and for the Classic Line, consisting of classic and eternally elegant sliding doors.
They are all versatile products, perfect for any type of interior design.